Circadian Rhythm
Circadian rhythms are the cycles that tell the body when to sleep, wake, and eat—the biological and psychological processes that oscillate in predictable patterns each day. This internal clock is influenced by external cues, like sunlight and temperature, which help determine whether one feels energized or exhausted at different times of the day.
What Is Circadian Rhythm?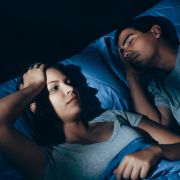 Circadian rhythms are governed by a master clock, a group of neurons called the suprachiasmatic nucleus, located in a region of the brain called the hypothalamus. This master clock translates cues from the environment into directives for the body. For example, receptors in the eyes detect darkness and pass that signal along to the suprachiasmatic nucleus, which then stimulates the production of melatonin, the hormone that causes sleepiness.
How to Get Better Sleep
An individual's biological clock can be set earlier or later, but keeping cues that influence circadian rhythm steady can help everyone maintain their routine. Waking up and going to sleep at the same time each day—and exposing oneself to sunlight and darkness at those times—supports steady melatonin production. Avoiding screens in the evening is therefore an important change that can benefit those hoping for better sleep.
Sometimes these changes are outside of one's control, as in the case of travel. Jet lag occurs when the internal clock and external cues become misaligned, which can result in fatigue or irritability before the two forces realign.