Two of Life's Greatest Anxieties Are No Job and Having a Job
Personal Perspective: How to leverage employment or unemployment for change.
Posted January 18, 2023 | Reviewed by Ekua Hagan
Key points
In the US, workplace stress leads to early death and nearly $200 billion in healthcare costs annually.
There was no abrupt "Great Resignation," but rather a decade-old trend of discontent.
Employees have a renewed commitment toward mental health and happiness that will continue indefinitely.
Magdalena Danaj / flickr
Millions of us are acutely aware that we've been slinging corporate burgers for elitists who put profits before people or the planet. Maybe you like your job only slightly more than you like being jobless.
"I don't know what mesothelioma is, but I wish I had it so I could retire."
Last year, I quit my job, along with 47-plus million other Americans, while having no backup. I live in California where inflation was invented and a livable wage is fantasy. But the fear and anxiety of financial calamity were less than the loathing I had for my boss, her boss, and his boss. Hitting "snooze" and bourbon lattes were all I looked forward to each morning. The first five days after each weekend were the hardest.
A 2015 Stanford study found that workplace stress such as long hours, job insecurity, and lack of work-life balance contributes to at least 120,000 deaths each year and accounts for up to $190 billion in health care costs.1 But that's the tradeoff for regular pay and a false sense of security.
Or is it?
Despite the hype, there was no sudden "Great Resignation." But there is a "Great Discontent."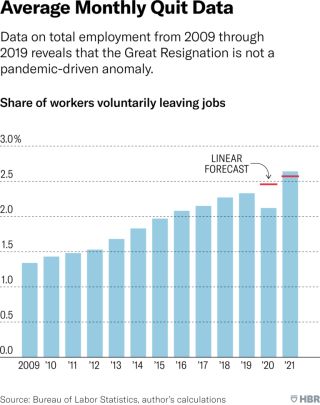 Source: Bureau of Labor Statistics
As illustrated within the graph at left, there was no short-term, pandemic-spurred anomaly of people quitting (the vastly overused "Great Resignation" catchphrase). It was a long-term scenario that began over a decade ago, with a pause in the job exodus in 2020 due to employment anxiety related to the COVID pandemic.
In 2021, stimulus checks led to a decrease in uncertainty and a record number of workers quit their jobs, creating the perception of a mass job exodus. But this was merely a continuance of a long-term trend.2
The reasons for our individual exits are varied, but come down to a reassessment of "business as usual" and where, how, and for whom people want to toil as the world seemingly burns. A 2021 Pew Research Center survey found that low pay, a lack of opportunities for advancement, and feeling disrespected at work are the top reasons why Americans are quitting their jobs.3
The Word of the Day Is "Expendable" (as in, "You are...)
We've been living the illusion that there's a certainty to life, that we'll all live at least 85 years, and that HR departments forever ponder ways to increase our joy and well-being. This is why they send mass emails to tell us they care, with a link to download a meditation app. They care so hard.
Have employees lost their shot-caller, "work from home forever in jammies" status as a potential recession looms? It depends on who you ask. Despite recent reports of widespread layoffs, some industries continue to do quite well.
According to a 2021 Indeed survey of US workers who had switched jobs at least twice since the start of the pandemic, 92 percent said the pandemic made them feel life is too short to stay in a job about which they weren't passionate. Now, a 2023 study conducted by the job site Monster found that 96 percent of workers are seeking a new position this year – most in search of better pay due to inflation and rising expenses.
Nevertheless, it shouldn't take a 2022 framework from the U.S. Surgeon General to remind us that we need to prioritize our mental health and well-being—with tenet number-one being Protection From Harm at Work. Preach, Dr. Murthy: "Creating the conditions for physical and psychological safety is a critical foundation for ensuring workplace mental health and well-being. This Essential rests on two human needs: safety and security."4
"I should've stolen more office supplies."
You have an innate purpose to fulfill that has nothing to do with a time-card, badge, cubicle, or being so bored at work that you actually work. It's up to you to identify and pursue it, however, which may or may not give you the financial viability to leave a job and attend art school or become an e-girl making millions by selling feet pics.
Things like climate change, pandemics, maniacal overseas dictators, and toxic managers can provide perspective and enlightenment that lead to personal inventory. Suddenly we're much more sensitive to work tyranny and the Sunday scaries. The result is a renewed focus on our mortality and mental health. And that's a great thing.
Anything that leads us to collectively question our happiness and purpose is an upside to the negatives. We're complicated beings with souls. We cannot be satisfied by external means, nor were we born to pay bills and die. Well, not just that. But most people are stuck selling labor to someone else with more money than us, and for less money than our work generates.
If your resume is a list of things you never want to do again, consider a change towards more fulfillment, and less anxiety and depression. Whether 2023 will be marked by more resignations or a recession—or both—it shouldn't be defined by regrets of not pursuing your purpose.
Don't wait until you're not scared to do the thing you want to do. Do the thing. Do it scared.
References
Goh, J., Pfeffer, J., & Zenios, S. A. (2015). The Relationship Between Workplace Stressors and Mortality and Health Costs in the United States. Management Science, 62(2), 608–628. https://doi.org/10.1287/mnsc.2014.2115