5 Tips to Ensure You Have a Happy Valentine's Day
Valentine's Day can put pressure on relationships to be perfect.
Posted February 6, 2023 | Reviewed by Michelle Quirk
Key points
Keep a realistic picture of Valentine's Day in mind.
Your partner isn't a mind reader.
Don't make Valentine's Day a relationship test.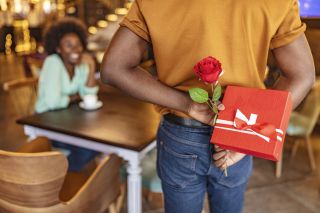 Source: ljubaphoto/iStock
Valentine's Day is an opportunity for you and your partner to demonstrate the love you feel for one another. Ideally, the day will strengthen your bond. But Valentine's Day can also be hard for relationships because it puts pressure on them to be perfect. And if your relationship isn't perfect on Valentine's Day, you may feel disappointed, angry, or hurt. Rather than bringing you closer, Valentine's Day can make you feel more distant from your partner. How does this happen, and what can you do to prevent it?
Here's an example of something I hear in my practice after Valentine's Day:
We're both so busy all the time. I thought Valentine's Day would be the day when we would finally slow down and give each other some attention, but no. He basically treated it like any other day except that he handed me an unwrapped Amazon gift at the dinner that I made a reservation for. It made me so angry. Like, can't he try to make an extra effort? I spent hours making him a photo book, which, by the way, he didn't even seem to appreciate. In the end, we just got into a big fight.
So, what's going on here?
This woman is having a lot of strong feelings. She's angry. She's hurt. She's anxious. She had specific hopes and expectations for her partner on Valentine's Day, and when he didn't deliver, she feared that his lack of effort meant that she's not important to him. I imagine her husband felt unappreciated and attacked, like his partner was more attuned to his failures than his efforts. From my viewpoint, a lack of love is not the problem here. The problem is that we have two people who wanted very different things from Valentine's Day but didn't communicate their expectations. They approached the holiday by giving their partner what they themselves would want, not what the other would want. Valentine's Day became an unspoken test that both of them failed. They felt unloved and unappreciated and ultimately lashed out at one another.
If you have had similar experiences in the past, don't panic. This year can be different. Here are five tips to help ensure you have a happy, loving Valentine's Day with your partner:
1. Keep a realistic picture of Valentine's Day in mind.
It's tempting to fantasize about a super-romantic day akin to something you would see in a romantic comedy. Daydreaming the perfect day will not help you feel closer to your partner. Your partner is not a fantasy but a real, complex, and flawed human. To hold him or her to a fantasized standard will only set you up for disappointment.
2. Your partner isn't a mind reader. If there's something specific you want on Valentine's Day, communicate it.
A patient once told me this:
I dropped so many hints about wanting to spend Valentine's weekend at this cute hotel. I really thought he was going to surprise me with it. And when he didn't, I was really disappointed. It took the fun out of the weekend for me. I wish I had just told him exactly what I wanted to do. It wouldn't be a surprise anymore, but we would be able to enjoy it together.
Asking explicitly for what you want may take some of the romance out of a gesture, but, in my expert opinion, it's a worthy sacrifice. There's nothing less romantic than a fight born from disappointed expectations or hurt feelings.
3. Plan something for your partner that they would appreciate, not something that you would appreciate.
You and your partner are not exactly the same, and that's OK. You may like different things, prioritize different things, or feel loved in different ways. When you're making plans for Valentine's Day, keep the ways in which your partner is different from you in mind and make plans that you know will be meaningful for them, not for you.
4. Don't set Valentine's Day up as a secret test of how much your partner loves you.
As a therapist, I often watch people unknowingly test their partner's love for them, almost willing them to fail. This isn't done out of spite or malice. It's usually a misguided attempt to decipher how much their partner loves them.
During a discussion of how disconnected she felt from her husband, a patient recently told me,
Will he remember to get me anything for Valentine's Day this year? He forgot last year. I'm not going to mention it, and we'll see what happens.
Without realizing it, she was setting her husband up for a test that she anticipated he would fail. I understand her desire to feel loved, but using Valentine's Day as a secret test of how much her husband loves her is a dangerous game. It will only lead to hurt and angry feelings.
Relationships Essential Reads
5. Don't panic if you get into a fight.
Holidays put a lot of pressure on relationships to be perfect for a day, and sometimes that pressure can lead to an argument. If you do have an argument with your partner on Valentine's Day, don't immediately assume that the relationship is doomed. Rather, try to lower your expectations, work on repairing, and focus on how your partner tried to show that he or she loves you.
A patient in a long-term, healthy marriage reported to me after Valentine's Day:
My husband only remembered it was Valentine's Day when our daughter gave us the valentine she'd made at school. He felt bad, and I was a little disappointed. But he had also emptied the dishwasher and gotten our daughter dressed and made coffee all before I got out of bed. I figured I could chalk that up to a Valentine's Day win.
So, to have a healthy, loving Valentine's Day with your partner this year, don't aim for perfection. Remember, your relationship is made up of two beautiful but flawed individuals who will try in their own imperfect way to demonstrate their love for one another.