Why Babies Need Your Undivided Attention
Considering the "technoference" of caregiver screen use.
Posted February 15, 2023 | Reviewed by Vanessa Lancaster
Key points
Babies need attentive caregivers to engage in responsive two-way interactions for optimal growth and development.
Even when babies don't engage in screen use, it can be disruptive when caregivers are distracted by devices.
There may be negative effects on young children and their behavior when caregivers are heavy technology users.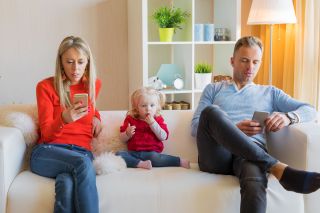 Source: Kaspars Grinvalds/Shutterstock
Co-authored by Sarah MacLaughlin, LSW
Smartphones are designed to simplify and streamline our lives; it's the convenience of a computer in your pocket. Some tasks typically completed from a phone actually free up caregivers (send a quick email, pay a bill, etc.), and others fulfill various purposes such as relieving stress and/or boredom, so providers shouldn't consider any and all phone use the same (McDaniel, 2020). However, many aspects of these ubiquitous devices cause problems when we're specifically focused on caregivers of babies and toddlers.
One concern is the amount of time caregivers spend on their smartphones, which is estimated to be an average of four hours per day (Yuan et al., 2019). Additionally, many caregivers (68 percent) note that they are distracted by their phones while taking care of their kids "some of the time" (Pew Research, 2020).
Researchers call the interruption of caregiver-child interactions caused by electronic devices "technoference" (McDaniel & Radesky, 2017)—and the results are worrisome. Babies and toddlers develop language and social-emotional skills from birth, and they need attuned adults to respond to their cues for optimal brain and emotional development. Here are three additional concerns to consider, along with some supportive approaches caregivers may wish to try:
Because babies and toddlers need "serve and return" interactions for healthy brain development, caregivers looking away and distracted–even when they are nearby–can interrupt serve-and-return and hinder optimal development. Caregivers might consider putting their phones away during certain times of day when babies are particularly alert and/or there are a lot of back-and-forth interactions, such as the start of the day, meal times, bath time, and during the end of the day/going to bed routines. During these times, they may want to focus specifically on eye contact, responsive caregiving, and facial expressions that offer "mirroring."

The lure of a smartphone is uniquely distracting, habit-forming, and relatively constant (McDaniel, 2020). While today's caregivers are increasingly focused on spending time with children, due to technoference, it may actually be lower-quality time (

Christakis, 2018).

Being physically close is not enough, as babies require emotional connection for optimal well-being. Encouraging caregivers to track and/or limit their screen use with app and screen time limits may reduce disconnected interactions. Turning off notifications and making the smartphone grayscale are other ways caregivers can reduce its attractiveness.

Recent research indicates that technoference is bidirectionally linked with problem child behaviors later in life

: Caregivers withdraw into technology to relieve the stress of their child's difficult behaviors, and, in turn, a caregiver's higher technology use may increase difficult behavior from the child (McDaniel & Radesky, 2018).

Caregivers can make daily efforts to "fill the emotional cup" of their young child with

"special time": short one-on-one interactions provided without distraction in which they delight in their child and follow their lead. Providers can also talk with caregivers about their own and their older children's electronic use and suggest they create a family media plan.
While electronics and their captivating screens have created an entirely new context in the caregiving environment, adults might put the phone away if they are more aware of these pitfalls, especially when those adults are caregivers of babies and toddlers.
Research is ongoing, and providers can continue to share information with caregivers, along with support around the universal attraction of these tempting devices, to help maximize positive caregiver-child interactions and early childhood development.
References
McDaniel, B. T., & Radesky, J. S. (2018). Technoference: longitudinal associations between parent technology use, parenting stress, and child behavior problems. Pediatric research, 84(2), 210–218. https://doi.org/10.1038/s41390-018-0052-6