Why Permanent Couples May Have Worse Sex Lives Than Singles
7 reasons that could contribute to a decline in sexual satisfaction over time.
Posted December 19, 2022 | Reviewed by Gary Drevitch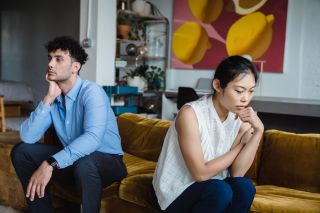 Source: Timur Weber / Pexels
When comparing married and non-married adults, some past research showed that married adults experience higher sexual satisfaction. Other studies found that married people experience higher levels of physical pleasure and emotional satisfaction than those who are single or cohabiting.
These studies use simple but compelling arguments to explain the apparent relationship between being married and sexual satisfaction. For one, individuals who are married have a stable, reliable partner who is almost always around, so sex happens more frequently. The studies also explain that having sex repeatedly with the same partner over the long term will likely improve the quality and satisfaction of sex as the couple becomes more intimately acquainted and builds higher levels of trust. To add to that, studies reveal that there is a negative relationship between non-exclusive sex and satisfaction. In other words, singles who have sex with different partners are less sexually satisfied than married individuals who maintain only one. In addition, later studies suggest that married individuals are more satisfied because they are less likely to worry about being rejected.
Yet, there are many potential reasons why a married couple may have a worse sex life than unmarried people, and recent studies reveal more complex mechanisms. Here are some potential reasons that could contribute to a decline in sexual satisfaction in a long-term relationship:
Lack of time and energy. Marriage and long-term relationships often involve managing a household, raising children, and balancing multiple responsibilities, which can leave little time or energy for intimacy.
Communication issues. Poor communication with a partner about sexual needs and desires can lead to a decline in sexual satisfaction. My studies showed, for example, that married couples tend to score low on sexual communication skills.
Emotional changes. Over time, couples may experience changes in their emotional connection and intimacy, which can affect their sexual desire and satisfaction.
Physical changes. As people age, they may experience changes in their physical health or sexual functioning that can affect their desire or ability to engage in sexual activity.
Stress and conflict. Relationship stress or conflict can lead to a decline in sexual desire and satisfaction, something that happens more frequently with permanent couples.
Lack of novelty. Some people may find that the novelty and excitement of a new relationship can contribute to a higher level of sexual satisfaction and that this can decline over time in a long-term relationship.
Societal or cultural expectations. There may be societal or cultural expectations or pressures that contribute to a decline in sexual satisfaction in long-term relationships, such as a focus on novelty or the belief that sexual desire and activity should decline over time.
It is important to note that these are just a few potential reasons and that the quality of a person's sex life can be influenced by a variety of factors. There is no right and wrong. No matter if you are single or in a relationship, if you are experiencing a decline in sexual satisfaction, it may be helpful to communicate your needs and desires and to seek support from a therapist or other mental health professional if needed.
On the other side, it is important to know that both married and unmarried people can experience fulfilling sex lives, and it's time for us to accept this.
References
Adamczyk, Katarzyna, and Jamila Bookwala. 2013. "Adult attachment and relationship status (single vs. partnered) in Polish young adults." Psihologijske teme 22 (3):481-500.
Butzer, Bethany, and Lorne Campbell. 2008. "Adult attachment, sexual satisfaction, and relationship satisfaction: A study of married couples." Personal relationships 15 (1):141-154.
Christopher, F Scott, and Susan Sprecher. 2000. "Sexuality in marriage, dating, and other relationships: A decade review." Journal of Marriage and Family 62 (4):999-1017.
Kislev, Elyakim. 2020. "Does Marriage Really Improve Sexual Satisfaction? Evidence From the Pairfam Data Set." The Journal of Sex Research 57 (4):470-481.
Kislev, Elyakim. 2021. "The Sexual Activity and Sexual Satisfaction of Singles in the Second Demographic Transition." Sexuality Research and Social Policy 18:726-738.
Pedersen, Willy, and Morten Blekesaune. 2003. "Sexual satisfaction in young adulthood: Cohabitation, committed dating or unattached life?" Acta Sociologica 46 (3):179-193.
Waite, Linda, and Maggie Gallagher. 2000. The case for marriage: Why married people are happier, healthier and better off financially. New York: Random House.
Waite, Linda, and Kara Joyner. 2001. "Emotional satisfaction and physical pleasure in sexual unions: Time horizon, sexual behavior, and sexual exclusivity." Journal of Marriage and Family 63 (1):247-264.
Warehime, M Nicole, and Loretta E Bass. 2008. "Breaking singles up: Sexual satisfaction among men and women." International Journal of Sexual Health 20 (4):247-261.