The Proliferation and Appeal of On-Campus Therapy Dog Programs
Therapy dogs can help reduce student stress and anxiety.
Posted January 12, 2023 | Reviewed by Michelle Quirk
Key points
Many campuses offer dog-therapy stress-reduction programs.
On-campus dog programs are low-cost and low-barrier.
On-campus dog-therapy programs may support student well-being.
Source: Courtesy of Freya L. L. Green Photography
To say there has been a surge in stress-reduction programs within the postsecondary setting that provide students with opportunities to spend time with therapy dogs wouldn't do justice to the proliferation of programs we've seen of late.
Increasingly, colleges and universities are responding to students' elevated stress and compromised mental well-being by introducing dog-therapy stress-reduction programs. Enormously popular, students missing their family dog back home are keen to spend time with dogs brought to campus. Getting buy-in from students isn't a hard sell. Programs are touted as a low-cost, low-barrier, and easy-to-access way for students to improve their well-being and establish social connections to others on campus.
Alongside the proliferation of on-campus programs, so, too, do we see a spike in the corresponding research conducted on the benefits of students spending time with therapy dogs. A recent scoping review by Bailey scanned nearly 1,200 publications identifying 37 that met inclusion criteria for additional in-depth analysis. Analyses of these studies revealed that research on the effects of therapy dogs on student well-being is predominantly conducted by researchers in North America and Western Europe, that randomized controlled trials are a common methodology used by researchers, and that interventions often comprise a single session assessing an array of outcome variables (e.g., cognitive, affective, social, and physiological).
The bulk of studies report significant reductions in stress and anxiety, commonly measured outcomes, and that these reductions in negative dimensions of well-being, when measured at follow-up intervals, are not sustained over time. Thus, it appears that having students spend time with therapy dogs is effective in the moment. That is, students' routine participation in on-campus dog-therapy stress-reduction programs can serve to reduce students' stress and anxiety at the time they make use of the program. Recent research indicates that this is especially true when students' interactions involve direct touch—petting and caressing the therapy dog. Findings from Bailey's research hold implications for the scheduling of programs, especially the frequency by which these programs are made available to students.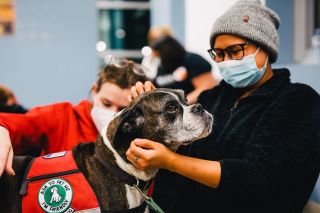 Source: Courtesy of Freya L. L. Green Photography
Researchers have not yet delved into examining variations in the delivery of the programs implemented across college and university campuses or just how therapy dog–handler teams are prepared for their work in support of students' stress reduction. As the proliferation of these programs continues, so too will research exploring all aspects of on-campus dog-therapy programs. What we do know from the research to date is that such programs show promise in helping students chip away at their stress, thereby helping reduce the likelihood of students experiencing heightened stress levels, which markedly affect their well-being and overall experience on campus.
References
Bailey, T. K. (2023). A scoping review of campus-based animal-assisted interactions programs for college student mental health. People and Animals: The International Journal of Research and Practice, 6(1). https://docs.lib.purdue/edu/paij/vol6/iss1/1
Binfet, J. T., Green, F. L. L., & Draper, Z. A. (2022). The importance of client-canine contact in canine-assisted interventions: A randomized controlled trial. Anthrozoos, 35 (1), 1-22. https://doi.org/10.1080/08927936.2021.1944558
Substance Abuse and Mental Health Services Administration (SAMHSA; 2020). Behavioral health barometer United States, Volume 6: Indicators as measured through the 2019 National Survey on Drug Use and Health and the National Survey of Substance Abuse Treatment Services (HHS Publication No. PEP20-07-02-001). Substance Abuse and Mental Health Services Administration.