Resilience
Resilience is the psychological quality that allows some people to be knocked down by the adversities of life and come back at least as strong as before. Rather than letting difficulties, traumatic events, or failure overcome them and drain their resolve, highly resilient people find a way to change course, emotionally heal, and continue moving toward their goals.
What Creates Resilience
Psychologists have identified some of the factors that appear to make a person more resilient, such as a positive attitude, optimism, the ability to regulate emotions, and the ability to see failure as a form of helpful feedback.
Optimism, for instance, has been shown to help blunt the impact of stress on the mind and body in the wake of disturbing experiences. That gives people access to their own cognitive resources, enabling cool-headed analysis of what might have gone wrong and consideration of behavioral paths that might be more productive.
Other aspects of resilience's roots remain under study. There does appear to be a genetic predisposition for resilience, for instance; but early environments and life circumstances play a role in how resilient genes are ultimately expressed.
Does trauma make someone less resilient?
Not necessarily; people who have undergone trauma can be—and often are—highly resilient. In some cases, however, traumatized individuals may develop maladaptive coping skills, such as substance use, that negatively impact them and may reduce their ability to cope with future challenges.
Can resilience be taught?
How to Build Resilience
Getting through pain and disappointment without letting them become overwhelming isn't necessarily easy for anyone. But researchers have begun to uncover what more resilient people do to emotionally and mentally carry on after the death of a loved one, a job loss, chronic or acute illness, or another setback. What they've learned may help others become more resilient themselves.
For instance, do you attribute personal and professional setbacks solely to your own inadequacy—or are you able to identify contributing factors that are specific and temporary? Do you demand a perfect streak—or are you able to accept that life is a mix of losses and wins? In each case, the latter quality has been tied to greater levels of resilience.
Why Failure Can Help Us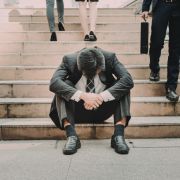 To fail is deeply human; everyone, no matter their background, skillset, or life story, will fail spectacularly at least once in their life. Its commonplace nature, however, doesn't mean that experiencing a major loss or setback is easy or fun—or that it's widely accepted in a winner-takes-all culture that prioritizes success at all costs.
But learning to be okay with making mistakes, big or small, is a critical skill—one tied not only to resilience but also, perhaps, to future success. One recent study, for example, found that young scientists who experienced a significant setback early in their career actually went on to greater success than scientists who had seen early wins.
I've experienced a major setback. How do I move forward?
You don't have to pretend that it's pleasant to fail or ignore the frustration that arises when a goal falls out of reach. Instead, accepting the emotions that came with the setback, being curious about why things went wrong and how you can improve in the future, and practicing self-compassion can help.
What are the benefits of accepting failure?
What lessons can we learn from high-profile people who have experienced setbacks?