From hoarding to handwashing to forever checking the stove, obsessive-compulsive disorder (OCD) takes many forms. It is an anxiety disorder that traps people in repetitive thoughts and behavioral rituals that can be completely disabling.
About 2 percent of the population suffers from OCD, according to the National Institute of Mental Health—that's more than those who experience other mental illnesses like schizophrenia, bipolar disorder, and panic disorder. OCD might begin in childhood, but it most often manifests during adolescence or early adulthood. Scientists believe that both a neurobiological predisposition and environmental factors jointly cause the unwanted, intrusive thoughts and the compulsive behavior patterns that appease those unwanted thoughts.
The disorder tends to be chronic—lasting for years, even decades—although the severity of the symptoms may wax and wane over the years. Both pharmacological and behavioral approaches—particularly Exposure and Response Prevention—have proven to be effective treatments that allow people with OCD to lead happy and fulfilling lives.
For more on causes, symptoms and treatments, see our Diagnosis Dictionary.
Signs and Symptoms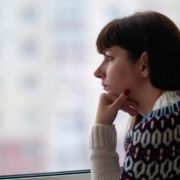 The first symptoms of OCD are obsessions—the unwanted ideas or impulses that occur over and over again and are meant to drive out fears, often of harm or contamination. "I will contract a deadly disease" or "My family will be harmed."
Compulsions appear after that—repetitive behaviors such as handwashing, lock-checking, and hoarding. Such behaviors are intended to mitigate fear and reduce the threat of harm. But the effect does not last and the unwanted thoughts soon intrude all over again. People suffering from obsessive-compulsive habits may also contend with motor tics or repetitive movements, such as grimacing and jerking.
Sufferers may understand the uselessness of their obsessions and compulsions, but that is no protection against them. OCD can become so severe that it interferes with their work or relationships, or even keep them from leaving their home.
Causes and Risk Factors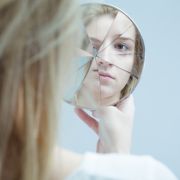 OCD likely results from a confluence of factors—a biological predisposition, environmental factors including experiences and attitudes acquired in childhood, and faulty thought patterns.
The fact that many OCD patients respond to SSRI antidepressants suggests the involvement of dysfunction in the serotonin neurotransmitter system. Ongoing research suggests there may be a defect in other chemical messenger systems in the brain.
OCD may coexist with depression, eating disorders, or attention-deficit/hyperactivity disorder, and it may be related to disorders such as Tourette's syndrome, and hypochondria, though the nature of the overlap is the subject of debate.
Treatment and Recovery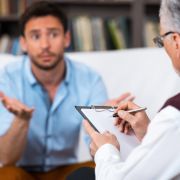 Either psychotherapy or medication, or both, may be prescribed for OCD, and research suggests that a combination of the two is often the most successful approach, especially for young people.
These drugs are typically selective serotonin reuptake inhibitors (SSRI). The SSRIs fluoxetine (Prozac), fluvoxamine (Luvox), and paroxetine (Paxil) have been specifically approved to treat OCD. These drugs have been shown to reduce the frequency and severity of obsessions and compulsions in more than half of patients, although discontinuation of drugs often leads to relapse.
Behavioral therapy for OCD such as Exposure and Response Prevention tends to produce long-lasting effects. Psychotherapy generally focuses on two aspects of the disorder: unraveling the irrational thoughts involved in the condition and gradually exposing sufferers to the feared object or idea until they are desensitized to it and can tolerate anxiety without engaging in compulsive rituals.