Menopause
Menopause is the transitional period in a woman's life when her ovaries start producing less of the sex hormones estrogen and progesterone. Menopause is declared when a woman ceases to have a menstrual period for 12 consecutive months, marking the end of her reproductive years. A woman who has her ovaries surgically removed immediately enters menopause.
Understanding Menopause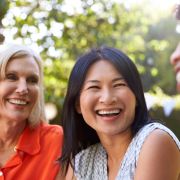 Natural menopause is a gradual process that begins with perimenopause, usually in a woman's 40s (though it may occur as early as her 30s). Perimenopause can last up to 10 years, as the menstrual cycle tapers off and menopausal symptoms such as hot flashes, night sweats, and mood swings may begin.
Other physical and psychological changes that may occur throughout perimenopause, menopause, and the postmenopausal years include irregular heartbeat, headaches, insomnia, irritability, depression, and anxiety, along with cognitive symptoms like forgetfulness. Menopause is also associated with problems such as vaginal dryness, painful sexual intercourse, urine leakage, and joint pain.
When does menopause usually start?
Perimenopause typically begins in a woman's 40s, though some women start to experience symptoms earlier. Menopause itself usually happens in the early 50s. Some women may enter menopause in their 40s; others continue to menstruate until their 60s.
What is the difference between premenopause and perimenopause?
The term "premenopause" technically refers to all the time in a woman's life before menopause; a woman in her 20s, for instance, is generally considered to be "premenopausal." "Perimenopause," on the other hand, refers to a specific period shortly before menopause when hormone levels begin to drop and the body prepares to enter menopause.
What is the first sign of perimenopause?
Early signs of perimenopause include persistent changes to the menstrual cycle, hot flashes, mood swings, and sleep disturbances.
How long does menopause last?
Perimenopause typically lasts 3 to 5 years, but can go for as long as 10. Menopause itself is said to occur when a woman has not had a period for more than a year.
How will I know when menopause is over?
Menopause is defined as the point in time when a woman has not had a menstrual period for at least 12 months. After that, the woman is considered to be post-menopausal; symptoms such as hot flashes may ease during this stage.
What is the "grandmother hypothesis"?
The grandmother hypothesis is an anthropological theory for why menopause occurs; it posits that women have evolved to undergo menopause and live past their child-bearing years in order to help care for grandchildren and other younger relatives.
Treating Common Symptoms and Challenges
Eventually, symptoms of menopause like hot flashes and mood swings will likely abate. However, for those who find them difficult to manage, there are treatments and strategies that offer some relief. These typically center on lifestyle changes such as breathing exercises, exercise routines, and the use of cooling devices for hot flashes. In some cases, short term use of nonprescription remedies like black cohosh and isoflavones from soy foods or supplements may help. Hormone therapy and non-hormonal medications are available by prescription for severe and disruptive symptoms.
What's the best way to treat hot flashes?
Regular exercise, maintaining a cool core body temperature—by drinking ice water or placing a cold washcloth around the neck—and paced breathing (six to eight breaths per minute, for 15 minutes, twice a day at the onset of hot flashes) can be effective strategies for some women who experience hot flashes.
Do hot flashes ever go away?
Most women eventually stop having hot flashes, but how long they last varies widely. The majority of women will experience hot flashes for less than 10 years.
Is it normal to gain weight during menopause?
Yes; many women experience weight gain during perimenopause or when they are post-menopausal (or both). A loss of muscle mass, an aging metabolism, increased appetite, and shifting hormone levels are thought to be to blame. Consistent exercise—particularly weight training—combined with healthy eating may help ward off midlife weight gain.
Does menopause cause physical pain?
One common symptom of perimenopause is painful intercourse; menopause may also come with joint stiffness, headaches, and other kinds of physical pain caused by decreased hormone levels, increased inflammation, or aging itself. On the bright side, evidence suggests that some women living with chronic pain report that their pain improved after menopause.
Hormone replacement therapy uses supplemental hormones to make up for decreasing levels and to address common symptoms of menopause, such as hot flashes or sleep disturbances. The most common hormone supplements used are estrogen and progesterone; in some cases, other hormones such as testosterone may be used.
How do I know if HRT is right for me?
The decision to use HRT depends on the severity of symptoms, physical health, and age. HRT is generally not recommended for women who are ten or more years past menopause. While HRT is generally considered safe, women with heightened risk of stroke, blood clots, or cancer may not be good candidates for HRT.
Menopause and Mental Health
Many of the most well-known menopause symptoms, such as hot flashes, are physical. But cognitive and psychological symptoms can be equally challenging for women to deal with—not to mention confusing or even frightening. Feeling "foggy" or forgetful, a common symptom of menopause, may cause concerns about the onset of dementia or Alzheimer's disease; mood swings may lead to relationship difficulties or can increase feelings of frustration or anxiety. Hormone therapy, as well as lifestyle interventions—such as exercise, dietary changes, and relaxation techniques—may help women reduce the mental impact of menopause and feel better as a result.