Leadership
Successful leaders are often credited with having high social intelligence, the ability to embrace change, inner resources such as self-awareness and self-mastery, and above all, the capacity to focus on the things that truly merit their attention. These are desirable skills for everyone else, too.
"Leadership is the capacity to translate vision into reality," said Warren Bennis, a pioneer in leadership research, and it is generally a leader's responsibility to develop a vision for the people and institutions they direct. They also need to effectively communicate their priorities to others and inspire them to commit to those goals as well. Leadership does not depend on one's title. Leaders can emerge at any level if they can motivate those with whom they collaborate to strive toward a common goal.
The Qualities of Great Leaders
Effective leaders likely share some key personality traits, including sociability, ambition, and curiosity—and these traits may be more relevant to the role than intelligence. Genetics appear to influence leadership ability, due to inherited personality traits, but environmental factors such as education and opportunity play a significant role as well.
Becoming a Better Leader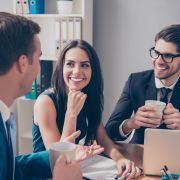 Ineffective or irresponsible leaders can sink an organization, and yet individuals who reach positions of power often fall prey to the same errors and pitfalls. Nearly 40 percent of CEO resignations are prompted by failures of integrity such as fraud and corruption. When leaders put their personal vision ahead of ethics or practical realities, they put their positions and their organizations in jeopardy. The remedy, experts suggest, is creating cultures of openness.