Compassion Fatigue
People whose professions lead to prolonged exposure to other people's trauma can be vulnerable to compassion fatigue, also known as secondary or vicarious trauma; they can experience acute symptoms that put their physical and mental health at risk, making them wary of giving and caring.
Feeling Another's Pain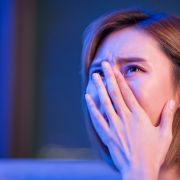 Empathy is a valuable trait for the military, first responders, humanitarian aid workers, health care professionals, therapists, advocates for victims of domestic abuse, moderators of offensive online content, and journalists on the front lines of war and disaster. But the more such individuals open themselves up to others' pain, the more likely they will come to share those victims' feelings of heartbreak and devastation. This sapped ability to cope with secondary trauma can lead to total exhaustion of one's mental and physical state.
Compassion Fatigue in the General Public
A secondary definition of compassion fatigue refers to the experience of any empathetic individual who is acutely conscious of societal needs but feels helpless to solve them. People who actively engage in charity, or volunteering, may come to feel that they cannot commit any more energy, time, or money to the plight of others because they feel overwhelmed or paralyzed by pleas for support and that the world's challenges are never-ending.
Treating Compassion Fatigue
Hospitals, nursing and police unions, medical associations, correctional facilities, and other professional groups have become more aware of the effects of secondary trauma and now urge those in the helping professions to offset such fatigue.