The human body is composed of more than 37 trillion cells, with two trillion cells dividing every day. Skin cells, for example, are continuously regenerating—a simple cut regenerates with new tissue and new skin cells form over that. Such cell division and regeneration slows markedly in aging bodies. As we age, the ends of chromosomes, known as telomeres, get shorter and shorter, becoming so short that the cell dies off. This process is not merely normal, it is universal and wholly unavoidable. That doesn't mean it's easy to accept. Understanding the biology and mechanics of aging can make it easier to weather these transitions in one's own body, and to stave of some of the more common illnesses associated with aging.
On This Page
The Changing Body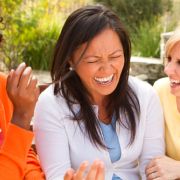 The aging body fights oxidative stress, whereby oxygen splits into single atoms. At the most basic level, the body contends with free radicals that age the human body over time. These unstable atoms seek out other electrons to become a pair that then causes damage to proteins, DNA, and cell membranes. And this damage can build up over time. In addition, waste in the form of fatty brown pigment, known as lipofuscin, builds up in tissue. The body's connective tissue is impacted, changing and becoming stiffer, in turn affecting organ function.
How does heart health change in aging people?
As we age, the overall heart gets rigid and different parts of the heart get thicker. It can also increase in size, which means that this vital organ pumps more slowly, with less blood circulating. You may notice a shortness of breath, fatigue, a faster or irregular heartbeat, swelling in your legs and feet, or bloating from fluid retention. All this from an aging heart.
Is cardiovascular disease a problem for older adults?
Getting older does hasten atherosclerosis, with plaque build-up that hardens the arteries, resulting in restricted blood flow. The plaque may well burst and lead to a blood clot. Atherosclerosis can cause a heart attack, a stroke, and or vascular disease. Cardiovascular disease, a poor heart and or blood vessels, affects more adults in their later years, age 65 and older, than younger people.
Is hypertension a problem for older adults?
Also called high blood pressure, hypertension can indicate serious health problems, even heart attack or stroke. As people age, they are more likely to need to manage their blood pressure with diet or medication. If you have narrow artery walls, the force of your pumping blood may be too high, and unchecked hypertension may lead to heart disease. People with high blood pressure may not even know there is a problem, as it can go undetected.
Why is diabetes a problem for older people?
Much of the food we eat is converted into sugar or glucose, and glucose is energy for the body. After eating, blood glucose rises in your body, insulin levels then rise as well. Insulin helps the body access glucose. If you miss a meal, you may experience the inability to think straight, this is a direct result of low blood sugar levels. People with diabetes are not able to produce enough insulin, which results in excess glucose in the blood. Diabetes does affect many aging adults and can lead to serious illness such as heart disease, stroke, cancer, nerve damage, among other critical conditions.
Do older people gain weight more easily?
Metabolism does slow in the aging body and there are hormonal changes in the thyroid. Menopause in women and decreased testosterone in men also impact how the body burns calories. The aging body, therefore, contends with increased body mass. In addition, we have higher lipid levels, macro-biomolecules that are mainly energy storehouses, and an excess of lipids can increase fat deposits. Generally, it is harder to maintain or lose weight when a person is in their 60s or older.
Is an enlarged prostate common?
Almost all older men have an enlarged prostate gland. This gland is found under the bladder and surrounds the urethra, which empties the bladder of urine. The prostate also produces some semen fluid for the transport of sperm. The gland starts out the size of a walnut, but it may grow as large as a lemon. Some 80 percent of men will develop an enlarged prostate, and 90 percent of men over age 85 have an enlargement. The bladder is impacted and it may not empty itself, if the enlargement is left untreated it may damage the bladder and or the kidney.
Aging and Disease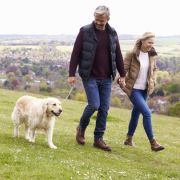 Our immune system can get compromised with age. Now more than ever, we need a healthy immunity to fight diseases and viruses and poor health. But in general, the aging body heals more slowly and it cannot protect you as well as it once did. Aging means a reduction of B and T cell production in the bone marrow and the thymus, which is a lymphoid organ important for the immune system. Compromised B and T cells can mean inflammation and all sorts of infections—pneumonia, bronchitis, meningitis, the common flu, and much more.
At what age is Parkinson's disease a problem?
This neurodegenerative disorder is rare in young adults, and is found more in adults aged 60 and older; and the risk increases with age. Parkinson's is a nervous system disorder that affects movement. People who have this disease shake with tremors, and have difficulty with balance, coordination, and walking. If left untreated, the person's condition may include speech difficulties and deteriorating brain function, and it can even alter mood and personality.
Why is osteoporosis an older person's disease?
A healthy young body builds new bone tissue rather quickly. However, the body loses bone mass as it ages. In fact, older adults lose inches in height, and a stooped posture can be common. Essentially, normal bones contain tiny holes, but these holes get bigger in aging bodies. Such brittle bones can lead to problems such as weak teeth, bone deformation, weakened joints, spine curvatures, and possible hip fractures.
Why are hip fractures so problematic for older people?
About 300,000 older adults find themselves in the hospital because of hip fractures, and more women suffer than men. Hip fractures are serious. Older adults are more prone to falling and have impaired balance; every year, 30 to 40 percent of people over age 70 take a fall. A third of adults aged 50 and over, who suffer from such a fracture, dies within a year. This type of injury leads to less mobility, less engagement, more dependence, higher risk for heart disease, stroke, pneumonia, and other problems.
Are osteoporosis and osteoarthritis the same or related?
Osteoarthritis is not osteoporosis. This chronic degenerative disease is a loss of articular cartilage. It pretty much means the wear and tear of joints over time. Many people at age 60 or more have some degree of osteoarthritis. This can also affect younger people, but there may be an underlying cause in these cases.
Are respiratory problems common in aging?
The lungs do age and older people may have a harder time with their respiratory system; tissues may lose elasticity, the rib cage can get smaller, and the diaphragm muscles can weaken making it hard for the airway to open completely. This is why older folks sometimes report shortness of breath. In addition, some elders may also suffer from a dry asthmatic cough.
Do older adults have higher rates of cancer than do others?
People over the age of 65 make up 60 percent of new cancer diagnoses, and they represent 70 percent of cancer-related deaths. People of advanced ages are at high risk for cancer relative to those who are younger, and the risk continues to increase with age, peaking in both men and women in their 80s. However, researchers are less clear on why the risk is higher in older people. It may have to do with DNA methylation, which regulates gene expression.
Recent Posts